Welcome to Oakford Burmese Cats
Welcome to Oakford Burmese. We are a small but enthusiastic hobby breeder near Worcester (close to junction 6 on the M5) and also regular exhibitors at championship cat shows throughout the United Kingdom.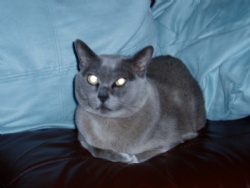 We have been breeding Burmese since 1998 and we aim for quality healthy kittens from good pedigree lines with excellent temperament.
All of our kittens are brought up in the house ( never penned outside ) they do not leave home or their mother until 13 weeks old and they are GCCF registered, vaccinated, wormed and insured for 4 weeks. We will also provide a full pedigree, a care sheet and a kitten goody bag.
Our kittens can only go to indoor homes or homes with a cat secure garden or outdoor run enclosure as we prefer that our kittens and cats are not run over, stolen or infected with incurable diseases inflicted from the bites of other cats!!

All of our male kittens will be on the non-active register and MUST be neutered at about 6 months old and all female kittens must be spayed (we would only let a kitten go for breeding to somebody that we already know and trust) a written contract will be signed by both parties to this effect before the kitten leaves for its new home.
If you would like to make an enquiry about kitten availability please e-mail us at Janice@Oakford.org.uk or telephone us on 01905-723024.